PVC Strip Curtains
At Crystal Rubber we can offer both a standard and bespoke range of PVC strip curtains. The bespoke range is appropriate where the door opening has non-standard dimensions. In this case the suspension rails and pre-plated PVC strips are individually cut to length, so making installation of the door kits straightforward. Our standard kits will fit perfectly in standard sized openings.
If you have any uncertainly about the type of door kit you require, please do not hesitate to give us a call on 01925 825552 or use the enquiry form below. Our prices are highly competitive whether you require a standard or bespoke door kit.
PVC Strip Curtains : The Benefits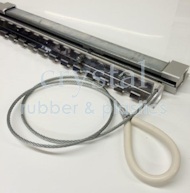 Sliding track options
available
Simple to repair and clean if necessary
The curtains have noise-reduction qualities
Installation is easy.
These PVC Strip Curtains are low cost and low maintenance
Available in standard size or bespoke manufactured size as appropriate
Enable freedom of movement for foot traffic or motorised traffic.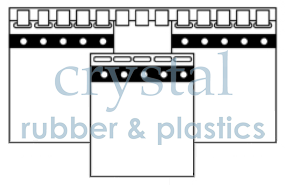 Number of hooks to leave between strips

Plate Width

Part Overlap

Full Over

200mm

3

1

300mm

5

1

400mm

7

1

Please fill in the form below if you are unsure about the type of door kit you require:
(fields marked with a * are required)