PVC Strip Curtain and High Temperature Rubber Sheet Specialists
Crystal Rubber provides a fast response service for the supply of industrial hose assemblies and couplings together with a wide range of rubber and plastic products.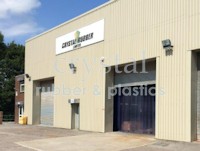 The service provided by the company also includes the manufacture of gaskets and PVC door strip curtains.
The company's joint partners have a combined experience of over 30 years in the rubber and plastic industry and have ideally located the business in the heart of Cheshire in order to provide an effective and efficient service to the surrounding industries.
The company also offers a 24 hour response service together with nation-wide next day delivery of its PVC strip curtains.
PVC Strip Curtains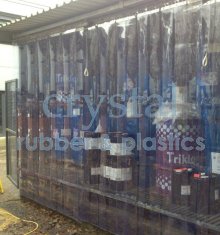 In addition to our standard PVC strip curtains, we offer a bespoke strip curtain service to suit doors of non-standard dimensions. Strip curtains offer freedom of movement whether travelling by foot or vehicle.
Low cost and easy to install, our PVC strip curtains also have noise reduction properties.
Self Healing Cutting Mats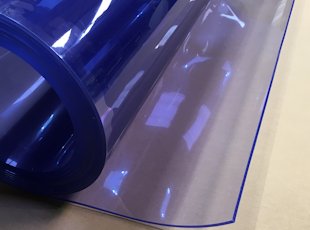 These Cutting Mats are "Self Healing" when used as a cutting surface, although the cuts can be seen, the self healing function keeps the surface smooth, and they can be used without feeling the cuts. They are heat-resistant & odourless, Double sided, and Anti-glare.
We stock the widest range of cutting mats on the market and we can supply any size of these Double Sided Self-Healing Cutting Mats up to 2.2m wide, 20m in length and 3 - 7mm thickness.
Click here to view our Buying Guide for Self Healing Cutting Mats.
Impact Crash Doors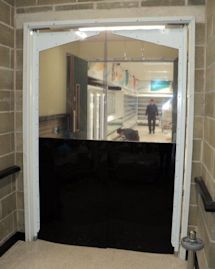 Crystal Rubber fabricate a wide range of Impact Crash Doors. The Multiflex frames house a vertical spring unit mechanism in the top of each door tube which is virtually maintenance free. A wide range of Door Panels are available for our impact crash doors, plus good choice of colours.
PVC & Insulation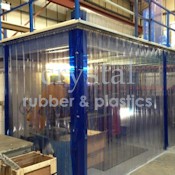 Crystal Rubber is one of the largest UK suppliers of PVC and Insulation products, with strong distribution links to Europe & worldwide. We supply a great range of flexible PVC in rolls, sheet, strip & kit form we also offer EN1598 welding grade strip. Our Koolshield insulated curtains offer great energy savings and complementary to that are our crash/impact doors, and chiller blinds.
Crystal Rubber offer a range of different hanging systems to accommodate our PVC door kits hook on/off sliding track and bolt on variations. As well as PVC we also supply brush strip and fly screen mesh. If you have any requirements for PVC and Insulation products, please call Crystal Rubber. A combination of our great range of products and high standard of service will leave you delighted.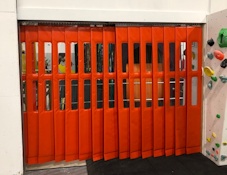 Rubber Strip, Sheeting and Matting
We have an outstanding stock of rubber strip, sheeting and matting products available to us for a whole range of different applications.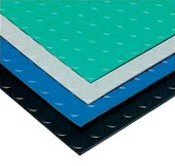 Our rubber sheeting comes in roll form and can be either slit cut or re-worked to form gaskets a self adhesive backing can also be added. Its available in a comprehensive selection of colours, thicknesses, lengths, grades and shore hardness. Our rubber strip, sheeting and matting products are ROSCH and REACH compliant.
Our sheeting and matting range includes:
EPDM
SBR/EPDM
Hypalon
Natural Rubber
Spec. Grade Natural rubber
Neoprene CQ Grade
Spec. Grade Neoprene
Nitrile CQ Grade
Spec. Grade Nitrile
NR/SBR
SBR/CR
SBR/NBR
Sealing and Jointing Products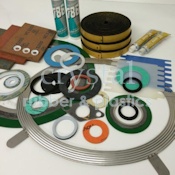 Crystal Rubber can manufacture gaskets out of a variety of materials that are precision cut for your requirements and applications. Our use of the latest CNC cutting machinery ensures great accuracy and precision when cutting materials.
We manufacture gaskets from the following materials: sponge, cork, felt, PTFE,PU, Klinger Novus and Flexitallic materials to name but a few.
Engineering and Machined Plastics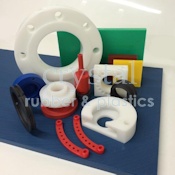 We have strong capabilities here at Crystal Rubber in engineering and machining plastic. We stock a wide range of plastic which we are then able to cut, bend, extrude and machine to your exact specification. Our stock includes upvc, acetyl, polypropylene, peek, acrylic, nylon and polyethylene. We also stock metal detectable and Tufnol grades.
No matter what your requirements, we will be able to produce the right product for your specific need. Whether it is polycarbonate guards or funnels, change parts or wear strip, or sheeting, or a whole range of other applications, please call us with your specification and we will deliver on our promises.
Silicone and High Temperature Materials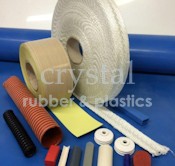 We stock a range of high temperature performance silicone products such as silicone sponge sheet and extrusions, tubing and cord. We have a great deal of experience in the use and applications of Silicon & High Temperature Materials. Please call us to discuss your specific requirements.
We can make joints, seals, complex extrusions sleeves and gaskets. All are FDA approved and perfect for the food, drink and pharmaceuticals industries.
We supply Silicon Sheet, Silicon braided hose, mouldings and silicone strip too. We also offer high temperature washers and gaskets, high temperature moulded radiator hoses, and automotive hoses to the automotive industry.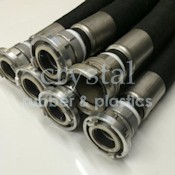 We have a vast range of hose and ducting products for a wide variety of different industry sectors. We manufacture stainless steel metallic hoses, Crystoflex composite hoses, gas and welding hose and ducting, and compressed air hoses. We supply a large range of bitumen & emulsion hoses and accessories including a full tag & hose re-test service.
For specific industry types, we have agricultural ducting, hot water and steam ducting, liquid and bulk food hoses, acid ducting, as well as mining and marine hosing and ducting. Typical applications include dust and fume conveyance, in addition to steam, gas and fume extraction.
Call us at any time to discuss your needs!
Hose Couplings and clamps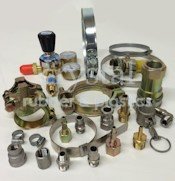 For Clamp and Hose couplings look no further than Crystal Rubber. Our range includes: Camlocks, Fire Hose Couplings, Bauer Water Couplings, Storz Couplings, Suction and Delivery Couplings, as well as a wide range of Hose Clamps, Morris Couplings, Double- Bolt Clamps, Hygienic Stainless Steel Fittings, Band-it Strapping and Jubilee Clips.
Mouldings and Extrusions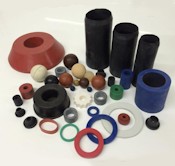 We have the ability to mould, extrude and press large or small components from rubber as well as rubber to metal bonding We can manufacture gaskets, door seals and inflatable seals for a wide range of industrial applications.
Our range includes foam impact protectors, dock bumpers and packers, wheel chocks and accessories, tank door seals, silo bands and a full roller recovering service.